For those interested in a triple telescopic solution, view this video: https://youtu.be/WjUiXlAZmjs
Overview
Talbots telescopic gate system uses a cable drive that is mounted under the gate leaves. The system provides an aesthetically pleasing result that is reliable and works well on gradients.
Our system allows for a double or triple telescopic gate and does not compromise on design styles. The system is durable and robust and has been in use for over 6 years with multiple problem free installations across Sydney.
For further information view our YouTube video: https://youtu.be/uYO2FQU2Yxc
For further information or a quote request please contact Talbot Automatic Doors and Gates on 1300560608 or email sales@talbotautodoors.com.au
Measuring Instructions
In measuring your telescopic gate allowance needs to be made for the fall in the driveway as well as overlap of the gates and the tail for the motor drive when closed. Pictured below is our measurement requirement form.
Measurements required to make a telescopic gate include:
Gate leaf width = total width / 2 + 75mm  plus 250mm tail on drive gate.
Gate height - allow 50mm spacing under the gate: so 1200H = 1150 gate frame height.
Gap between the gates is 50mm - Gap between gate and support post 75mm - gap from front fence  - Min 30mm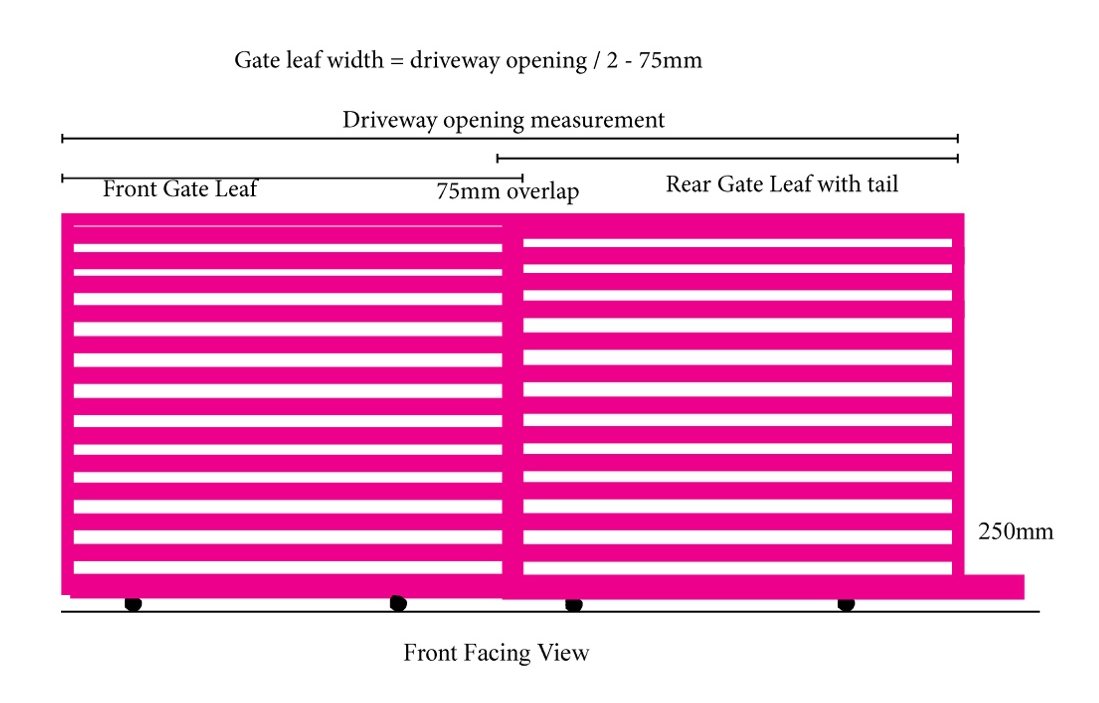 Fabrication Instructions
The gate fabrication process can be done by any Aluminium fabricator; however, they need to fabricate the gates as specified in these instructions for the Telescopic system to work correctly.
Typically, the gate frames are made from 50x50 box section, with a 50x100 base frame. The rear gate is always made with a 250mm tail. The Leading vertical frame on the rear gate is made from an 80x50 box section with a central 30mm slot cut down 200mm to house the nylon support guide.
On the back vertical support of the rear gate an infill panel is mounted to fill the gap when the gates closed, this is the height of the gate 100mm wide.
The base 100 x 50 frame is enclosed on both ends to support the telescopic cable brackets.
Telescopic gate drawing